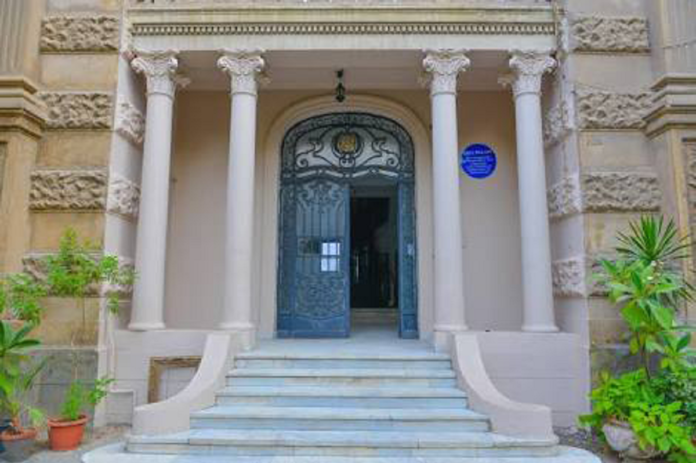 History can never be erased; it stays over time to tell us unique stories and interesting events connected to places and buildings.
One of most elegant neighborhoods that tells us a lot about the history of Cairo is Garden city; on your way from the Corniche to Kasr El Eini street, if you pass by Ittihad Al-Muhamiyin al-Arab (Syndicate of Arab Lawyers) street, previously known as Tolombat street, your eyes can never miss an architectural masterpiece called "Grey pillars", referred to as number 10 in the mailings of the British troops during World war II. If you are eager to know more about the history of this building, read this piece.
The British troops occupied Egypt for almost 70 years; during World War II they had a lot of military bases in Egypt. During this critical era, the British troops selected a unique building in the old neighborhood of Garden city, called Grey pillars to be their headquarters as the main hub for their military operation.
The famous building was mentioned in a famous book called: "The Deceivers: Allied Military Deception in the Second World War". The author wrote: "The headquarters of Middle East Command, usually called GHQ, was in a modern apartment building called Grey Pillars, half a mile south of Kasr-El Nil Barracks in a residential area of trees and winding streets known as Garden City. As the war wore on, GHQ would outgrow Grey pillars and eventually a substantial part of Garden City would be transformed into a huge headquarters compound. The Grey pillars hosted a maze of bedrooms and sitting rooms partitioned into cubicles, offices set up in converted bathrooms and kitchens, a busy department store trying to cope with a flood of business during alternations."
According to research, Roughguides.com, "Security in Garden City was so tight that when SEO people asked taxi drivers to take them there, they would smile and say, "Oh yes, Secret Building." In fact the Army General Headquarters fully occupied the rusticated stone pile known as "Grey Pillars" or "Number Ten"; its address on Tolombat street know now as Ittihad al-Muhamiyin al-Arab.
A famous British novelist called Olivia Manning, also lived in Grey pillars. It is to be noted that the British embassy was also located in Garden city and in 1942 the Embassy burned their files in Grey Pillars, spreading smoke in every inch around Garden City. Half-charred classified documents were left to fall on the streets, where peanut vendors twisted them into cones to sell their wares in.
It is to be noted that the famous beautiful building, nowadays host a place for art and culture called room art space; it is located at the basement of Grey pillars and was founded in 2014.
Ahmed Zidan, founder of Room art space, told MEO, that he was really excited to found the art space in such a significant historical building. "The building which was serving as a place for strategic war planning during the 40s, now is hosting an art space. It is in fact one of the most beautiful buildings in Garden city. I did not face any problems to rent the basement of the building; the building is registered under the UNESCO agency," explains Zidan.
"When I was doing the necessary procedures before the opening, I had to do bring an expert in monument restoration to supervise the work, we were doing at the basement." says Zidan.
The building is composed of four floors, it carries initials at the entrance OS, most probably referring to the founder of the building; history indicates that his name was Omar Sirry. The exact age of Grey Pillars is largely unknown.