by Ameera Fouad
---
Whereas people all around the globe usually use bank accounts for money transfer, people in Africa especially in the Sub Saharan region use mobile phones to transfer money.
Although it is pretty weird to hear of such especially if it is the main business money enterprise integrating there in countries such as Zambya, Nigeria , Kenya and South Africa  , only a third of adults have access to bank accounts in sub Saharan Africa . There are many people, whose money simply never touches the region's financial systems.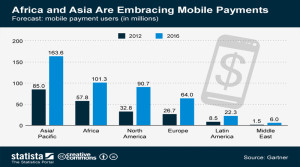 According to Atlas Data Research , in 2014 , the market generated almost 656 million dollars in revenue and it is expected to double to 3.1 billion dollar in the coming few years .
Why transferring money via mobile phones can be cheaper than bank accounts? Mobile phones simply take no charge for any cash transfer as they send these remittances by mobile phones can be cheap, efficient and safe alternative to the usual channels of employing money transfer companies or acquaintances traveling to the home country
Money can be sent to even remote rural areas quickly, so long as the recipient has cell phone access or can go to a participating business that pays out cash.
Mobile money transactions can offer banks a way to reach people in rural markets without the expense of building new branch offices or agency outlets.
The use of mobile money transfers for remittances and small payments, such as school fees and utility bills, has expanded beyond Kenya as the kicking off country for such enterprise in 2011,  to include all other African countries and all  Sub Saharan region ..
For example, in Nigeria, GT Bank got a business agreement with Etisalat Nigeria, the country's third biggest mobile operator, to create GTEasySavers, a savings account that can be opened via mobile phones.  And in Kenya, in 2011, only 42% of people had bank accounts. That has risen dramatically, driven by mobile money platforms.
Now, banks are the ones following  the track of gigantic mobile operators  while  all theses telecom firms have, essentially, become financial institutions.